Custom Lake Map, Lake Michigan Map, Lake House Decor, Custom Map, Lake Michigan Resin Map, Map, Michigan Map, Map Art, Personalized Map
Custom Lake Map, Lake Michigan Map, Lake House Decor, Custom Map, Lake Michigan Resin Map, Map, Michigan Map, Map Art, Personalized Map
Regular price
Sale price
$79.00 USD
Unit price
per
Sale
Sold out
Embrace your love for the Great Lakes and cherish your connection to Lake Michigan with our stunning Personalized Lake Michigan Map, featuring a unique resin lake with vibrant color. This piece of art is more than just a map; it's a custom masterpiece that captures the essence of Lake Michigan's beauty and your personal connection to this iconic body of water.

Key Features:
Handcrafted to perfection: Each Lake Michigan map is meticulously crafted using passion and expertise into every detail.
Personalized to your liking: Customize your map to reflect your unique connection to Lake Michigan. Add your name, a special date, or a meaningful message to make it truly yours.
Resin Lake: The heart of this art piece is a vibrant resin color of Lake Michigan. It adds depth and character to the map.
High-Quality Materials: We use premium Birch wood and high-quality resin to ensure your Lake Michigan map is durable and long-lasting.

Why Choose Our Personalized Lake Michigan Map:
Meaningful Gift: Surprise a loved one with a heartfelt gift that celebrates their connection to Lake Michigan.
Unique Home Decor: Elevate your home's interior with a one-of-a-kind piece of art that sparks conversations and admiration.
Memory Preservation: Whether Lake Michigan holds cherished memories or symbolizes a special place in your heart, this map preserves those moments for a lifetime.

How to Order:
Choose your preferred size.
Personalize your map by adding your name, a date, or a special message.
Place your order and let us bring your personalized Lake Michigan map to life.

Note: Each map is made to order, and due to the custom nature of this product, please take note of our processing time for your map to be created and shipped to your doorstep.

Whether you're a Lake Michigan enthusiast, a Michigander, or someone who simply appreciates the beauty of our world's lakes, our Personalized Lake Michigan Map with Resin Lake is a stunning addition to your home or a thoughtful gift that captures the essence of Lake Michigan like never before. Embrace the allure of this incredible lake, and make it your own today!
Shipping & Returns

Processing: 3-10 Business Days ((Some products require longer processing)

Shipping: USPS Priority Mail, 2-5 Business Days

-This item cannot be returned or exchanged because this is personalized but contact us if you have problem with your order.
Share
View full details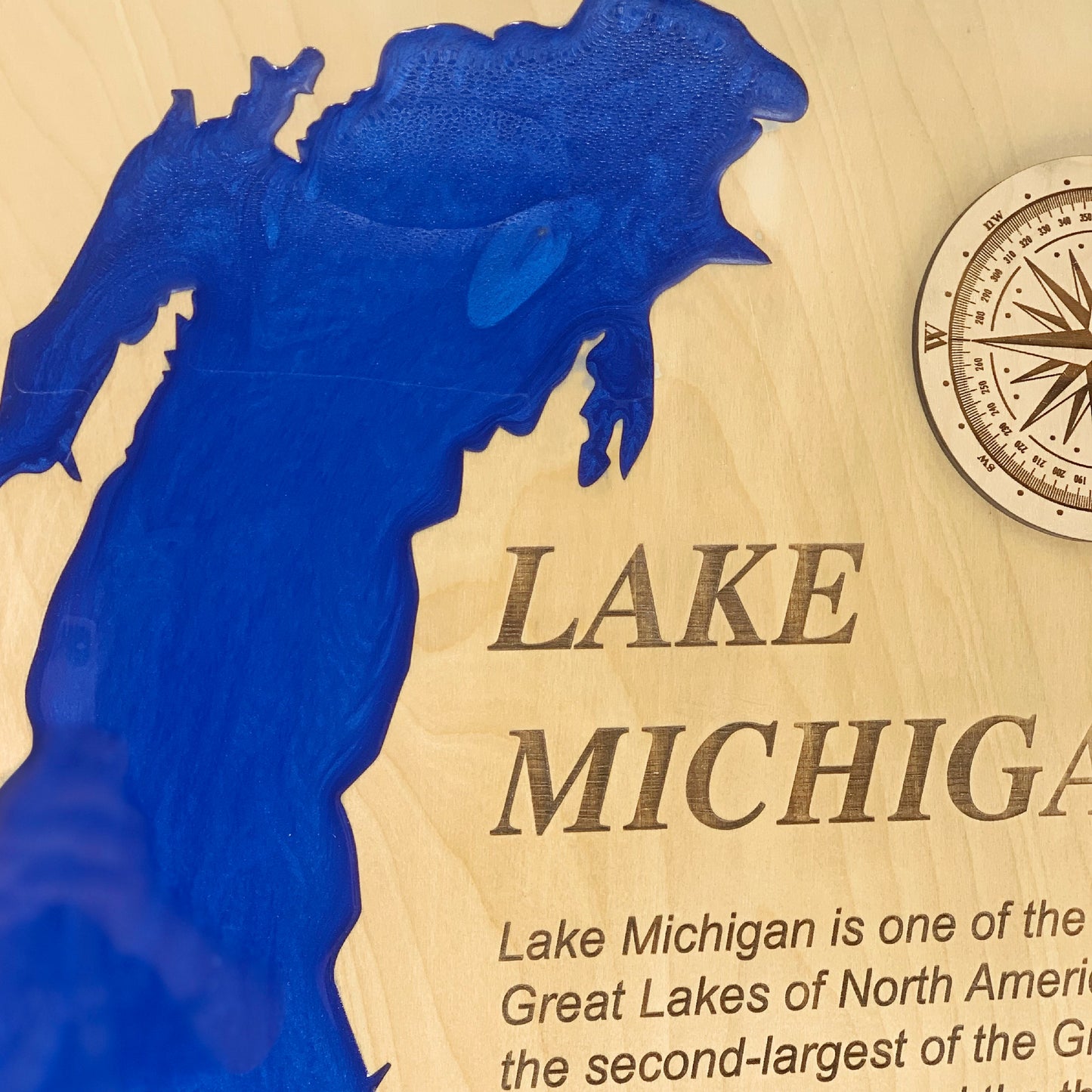 Free Shipping

FREE shipping on orders $49.00 and up!

Refund Policy

We have a 30-day return policy, which means you have 30 days after receiving your item to request a return. We do not accept returns for personalized items such as those items engraved with your photo, logo, and your own texts. Read more about our Refund Policy